By Erika Whitfield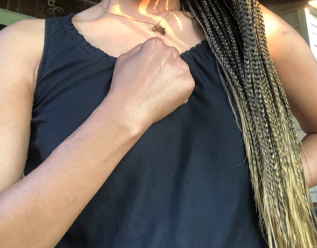 When I taught  at Christ Light of the Nations school, one of the Monday morning routines included prayer and the Pledge of Allegiance in the cafeteria. That lunchroom also served as the gym and our praise and worship space for Wednesday mass.  Students placed their right hands on their hearts, some proudly… others haphazardly … and routinely recited the Pledge. As for me, I would place a fist on my heart and not recite the Pledge. 
This was my private protest. In a country where police killings of unarmed Black citizens is a recurring real life nightmare, reciting empty words for the sake of routine was not how I wanted to start my day. Words are powerful. Just six miles down the road, and four years prior in Ferguson, Mo., police murdered Michael Brown. The line from the Pledge that ends with "…liberty and justice for all" should be amended with the words unless you're lack, brown, poor, LGBTQIA+, or a woman with a uterus.
In a cafeteria/gym/quasi church full of students and staff, I figured I'd go unnoticed. Wrong, wrong, wrong. A few of my homeroom students noticed my Pledge routine. They inquired why. Students are always watching, including my daughter.
Erin started at Christ Light several years before I started teaching there. When she reached the sixth grade she ended up in my homeroom with about 20 other students. We were a small school community and most of the parents of my homeroom students knew me as a parent as well as a teacher. Our children participated in activities, played sports, and maintained close knit friendships.
Some other pertinent factors:
Though our student body was overwhelmingly made up of African-Americans, I was only one of two black teachers at the school.
As a recent hire and not a Catholic, I didn't know the boundaries I could push. I sensed that I could be dismissed if my superiors believed that my behavior contradicted the catechesis being taught.
At this point, I felt unprepared to discuss my reasons for this quiet defiance. At the same, I believed strongly that building trust with your students means being vulnerable and honest.
So I shared my beliefs about the Pledge of Allegiance. I explained to my students about the power of words and compared it to prayer. Reciting the Pledge of Allegiance simply felt like a lie when not everyone is treated fairly in our country, specifically Black people. We talked about what makes America so wonderful is the fact that citizens have the right to protest. So says the First Amendment.
Students mentioned Colin Kaepernick's protest when he kneeled during the National Anthem, his reasons for doing so, and whether they agreed or disagreed with his actions. I encouraged students to share our class discussion with their parents. As we ended, one student declared that I was unAmerican because, according to her father, anyone who kneels during the National Anthem or disrespects the flag, is disrespecting America.
That got my attention. A sixth grader with minimal life experience and all the values and virtues embedded by her parents told a class full of other sixth graders, including my daughter, that I was un-American. She said it with the fervor and conviction of a true patriot. This promising young woman had visited my home, eaten my food, played with my daughter. Now looked at me as if I was no longer a credible authority figure. I listened to her regurgitate her rationale from her father. It was her truth. She believed it. I believed she believed it. Why wouldn't she?
Our families shared the same zip code, but we lived in two separate worlds. She was among the few white students at our school and soon would be attending a Catholic high school in St. Charles County. The truth is some of us are experiencing America in a totally different way than others. A woman with a uterus in America is experiencing a very different America from men. The unhoused American, the undocumented American, the trans-American, and Black citizens from the African diaspora living in America whose life experiences may be very different from one's own are valid and ought to be respected, valued. This is why empathy is so vital. The America that exists in the Constitution of these United States is not the same America that all are living in. Therefore, pledging allegiance to its flag feels meaningless to me.
"Empathy should not be contingent on our proximity to suffering or the likelihood of it happening to us. Rather, it should stem from a disdain that suffering is happening at all." wrote the poet, author and scholar, Clint Smith.
In the days after our homeroom discussion, I noticed that the student who had been critical of my behavior taking notes whenever I spoke about race or economics or anything that contradicted her beliefs. This created some anxiety for me and I spoke with my principal about the matter.
I did not find much empathy, but I discovered a boundary. She said our school and its teachers should never press their personal beliefs on students. A school that supports being pro-life doesn't want a teacher to discuss protest. This was the boundary.
I felt isolated and sad. On the worst days, I'd eat alone in my classroom. A colleague, now a friend, Jane Zappia visited me. She holds a doctorate and, at the time, she was teaching English and social studies at CLN.
Jane and I lived and continue to live in separate worlds. She is white and grew up in suburban Illinois. She often said her home mirrored the one June and Ward Cleaver established for their boys, Wally and the Beaver, in the fictional TV town of Mayfield. Now, wouldn't you know it, Jane makes a living as a maker of pies, sweet and savory.
Back then Jane brought to me warmth, empathy and an open mind. The next Monday in our cafeteria/gym/quasi church, Jane stood next to me with her fist on her chest. Neither of us recited the Pledge.
Let us not have the conviction of our sixth grade selves. Instead, listen like Jane and stand in solidarity with those whose experiences as Americans are different from your own.