Residents in Preservation Square said Valerie Nichols made them feel like part of her family
Valerie Nichols "was the type of worker you didn't know you needed until she wasn't there," writes Stu Durando in the St. Louis Post-Dispatch. Stu had been keeping track of Ms. Nichols as part of Before Ferguson Beyond Ferguson's 63106 Project, which shines a light on our region's most vulnerable residents in the time of the pandemic. These stories by turns have been inspiring and heartbreaking. This one is both. Our work is produced in partnership with the Pulitzer Center. Click here to read the story in the St. Louis Post-Dispatch.
Focus on 63106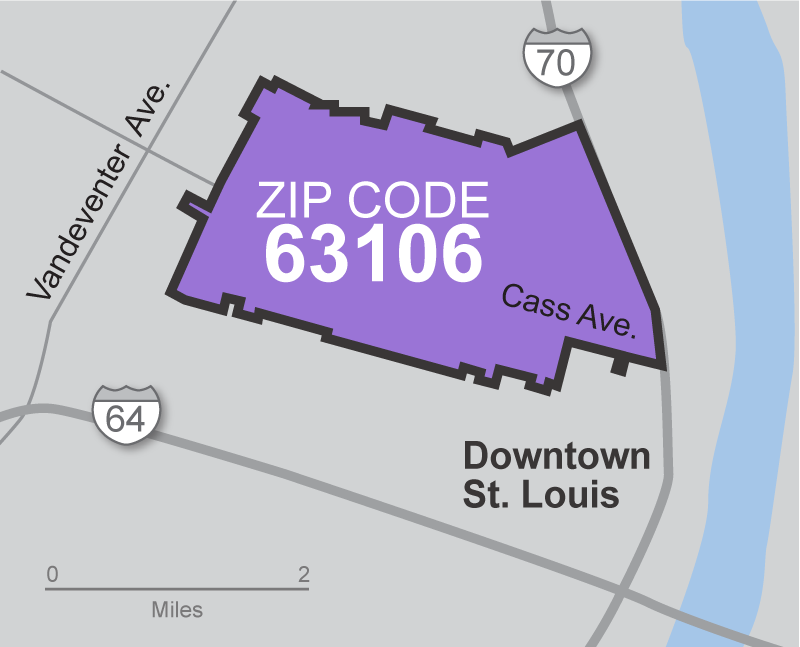 Among a population of 11,221:
50% live below poverty line
45% live without a vehicle
50% live with a disability
Future home of National Geospatial Intelligence Agency

Old site of the Pruitt-Igoe housing project, where a small hospital/clinic is promised.

Several St. Louis Public Schools, including historic Vashon High, the Flance Early Childhood Center, and charter schools.

Affordable housing developments, including Carr Square Village, Preservation Square, Murphy Park, and Cochran Plaza.

Numerous churches, including Calvary Missionary Baptist Church, Faith Temple, Progressive Missionary Baptist Church, St. John Missionary Baptist Church, and St. Stanislaus Kostka Church.
---
About Before Ferguson Beyond Ferguson
This is the second chapter in the story of Valerie Nichols and first appeared in the St. Louis Post-Dispatch. Click here for chapter one. Before Ferguson Beyond Ferguson, a nonprofit racial equity storytelling project, is telling the story of families in 63106 one by one over the course of the pandemic. You can sign up for e-mail notification of future stories and find an archive of other stories that have appeared in St. Louis media at beforefergusonbeyondferguson.org